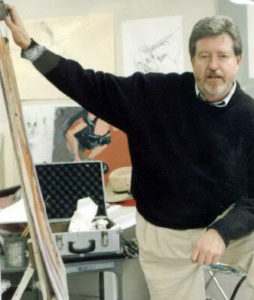 I want my paintings to be expressive and interesting.
I am always sensitive to the subject, but my goal is to express the emotion in what I see.
I believe art is only interesting when the artist is confident and open to trying and expressing new ideas. My words are limiting, and music is outside my ability, but when I paint, draw, sculpt and create something, I am confident and free. I can easily share my ideas and show how I see the world around me. I love telling my story and exploring the thousands of images that surround me every day. It is my journey and I embrace the challenge.
I have been interested in art and artist my entire life. I began painting as a very young boy. I learned from my grandmother who introduced me to painting.
As a young artist I attended Weber State College school of art and I continually seek opportunities to add to my knowledge and techniques. I regularly exhibit my art in juried shows. I am currently a member of Collective Visions Art Gallery, a collective gallery of artist that I was a principle founder 25 years ago.
I am currently fascinated by the Pacific Northwest skys-capes and cloud formations.
I paint with traditional oil paints. I prefer a large canvas. My paintings begin with photographs I take and bring to my studio for reference. I have a large studio in my home near the hood canal bridge in Poulsbo, WA.
My method of painting is quick and wet on wet. I like the feel of the buttery paint flowing on the canvas. I like to paint quickly and not hide the process in my work. I embrace the accident that happens during the process.
My images are silent glimpses of people and places.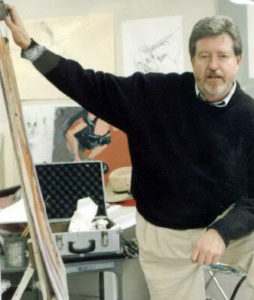 Ken Van der Does is a contemporary realist painter who lives and works in Poulsbo, Washington. A native of Ogden, Utah, his colorful paintings pay homage to his awareness of his environment. His distinctive personal style emanates peace and expresses the vibrant spirit and atmosphere of the People and places of the Pacific North West.
Picturesque landscapes, interesting people and places, romantic skies and cloud formations, and common folk tending to their mundane jobs are all brought to life with contrasting and harmonious colors and bold compositions. As the artist explains, "I am a storyteller and I welcome you to join me on this visual journey."
As a child Ken received inspiration from his grandmother who showed him her innate talent. From a young age he has believed, "You can create anything once you see it in your mind." He studied a Weber State College art department in Ogden, Utah. He also studied with Julann Campbell in Poulsbo, Washington. Ken is the principle founder of Collective Visions art gallery, Bremerton Wa., and currently sets on the board.
Ken's artwork has been shown in the CVG Juried Show exhibitions in Bremerton and currently on exhibit in the Collective Visions Gallery. He has served on the Kitsap County arts board. He has been featured many times in the local newspaper. He has been featured at the gallery and shown annually at the Arts poetica show every year in Bremerton. He regularly preforms demonstrations of his process at local art fairs and festivals